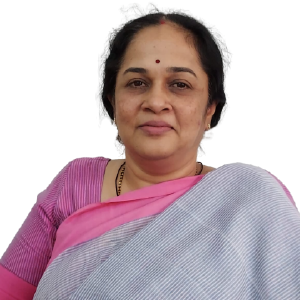 Dr Madhavi Cherukuri
Chairperson, Change Management & Transformation
Madhavi has held key leadership positions in eminent public, private and educational institutions for nearly 30 years. Starting at COD as a Research Assistant, she is a former Director and Governor, and has been affiliated with us for almost 2 decades. As Senior General Manager and Head of Capacity Building and Knowledge Management at the National Institute for Smart Government (NISG), Madhavi steered capacity-building initiatives, formulated policy and strategy, and led e-governance collaborations with the National e-Governance Division (NeGD), state and central government departments. She was a guest lecturer at Hysea Leadership Programs, and served as an independent non-executive Director on the Board of Nava Bharat Ventures.
Madhavi is the author of 'Change and Turbulence in SAIL: A Story of Fluctuating Fortunes', and has published several papers in professional journals.
Madhavi has an MA and MPhil in Sociology from the University of Hyderabad and a PhD in Business Management from Osmania University, specializing in Change Management.
Expertise
Change management
Organization development