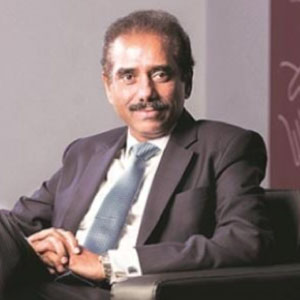 Dr Srinivas Rao Kandula
Incoming Director, COD
Strategic HR Development, Performance Management, Organization Development
The Board of Governors is pleased to announce that Dr Srinivas Rao Kandula has accepted the position of Director, COD, effective February 1st, 2022.
Since 2019, Dr Kandula has been the Chairman of Capgemini India.
From 2016 to 2018, he was CEO of Capgemini Technology Services India and a member of the Capgemini Group Executive Committee. He joined iGATE Global Solutions in 2007, serving as Executive Vice President, Member of the Executive Council and Chief People Officer. His leadership was key to the acquisition of Patni Computer Systems by iGATE in 2011 and the subsequent acquisition of iGATE by Capgemini in 2011. He spearheaded both these highly successful multi-geography integrations. Prior to joining iGATE, Dr Kandula held senior leadership positions at Power Grid Corporation of India and Sasken Technologies.
The organization-wide transformative strategies and programmes he developed have been instrumental in these organizations being recognised among India's Great Places to Work and Best Employers in multiple surveys.
Dr Kandula is a doctoral fellow of XLRI Jamshedpur, where his thesis on 'Alignment between Corporate Restructuring Strategies and Human Resources Interventions in BT-Top 500 Companies' was widely lauded and published as 'Strategic Human Resource Development' by Prentice Hall India in 2001.
Since then, Dr Kandula has written 9 books and over 60 papers on Strategic Human Resource Development, Performance Management, Organization Development and Self Development. His works have been published internationally and translated into multiple languages. He is associated with several industry and professional bodies including NASSCOM, CII, the Indo-American Chamber of Commerce, and the National HRD Network, and lectures by invitation at MDI Gurgaon, ASCI, the IIMs, and his alma mater, XLRI.
The Board of Governors, faculty and staff of COD extend a warm welcome to Dr Kandula. Under his leadership, we look forward to attaining greater heights in the years to come.