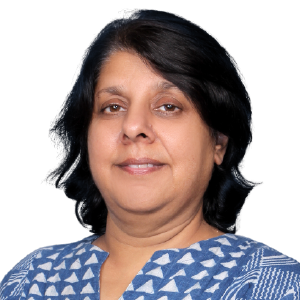 Dr Dimple Grover
Org Development, Change Management, Leadership, Corporate Governance, HR
Dr Grover is a 'pracademician' – one who works on the boundary of practice and academia to create new bridges of knowledge. She helps organizations build their culture and capability by enabling them to become more agile and innovative. With over 2 decades of rich experience in consulting, training and research, she has been associated with premier institutions across India and the world. Dr Grover is an expert in large team management and leadership interventions as a consultant to government ministries and several eminent public and private sector enterprises. She is a champion of workplace diversity and inclusion, and a PoSH trainer. She coaches executives across all levels and in a wide range of industries and sectors.
She is an acclaimed speaker at industry forums and has multiple industry and academic journal publications to her credit.
Dr Grover is a Fellow of the East-West Center, Honolulu, Hawaii, and an alumna of IIT Delhi, where her PhD research focused on the intersection of psychology and management.
Expertise
Change management
Organization development
Leadership
Corporate and HR governance
Human resource development
Diversity and inclusion